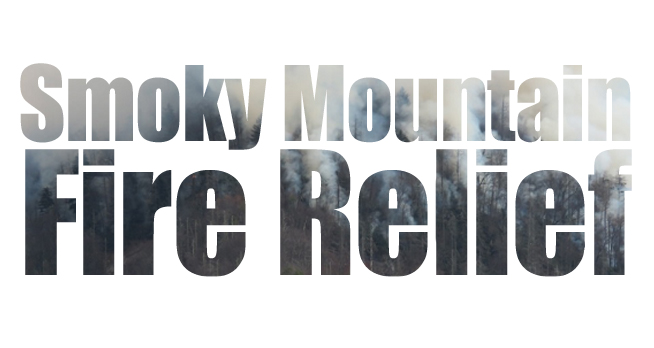 "A fire for the history books." That's how one official describes the wind-driven wildfires that have forced more than 15,000 residents from their homes in Gatlinburg and Pigeon Forge. The reality is that many of the residents will have no home to find when they are allowed to return. Officials confirm that "hundreds" of structures have been destroyed, most of them private homes. A number of businesses were also destroyed, and along with them, the jobs they provided. The fires spread so quickly that most people in harm's way were forced to flee for their lives, leaving their belongings behind. For many, it's all gone.
The people of Sevier County are a welcoming bunch, always the first to offer a kind word to the millions of tourists who visit the Smoky Mountains each year. Now, the people of Sevier County desperately need our  kindness. The needs are many, the time short. We urge you to help by donating to the American Red Cross.
| SMOKY MOUNTAIN RELIEF EFFORT – WAYS TO HELP  |
To make a monetary donation, please visit http://rdcrss.org/2gf5uXr
---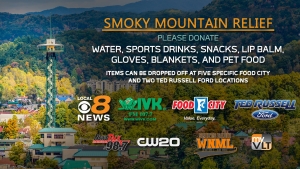 LOCATIONS WILL STOP ACCEPTING DONATIONS AT 12:30P ON 11/30 FOR THE TIME BEING. WIVK, NewsTalk 98.7, Sports Radio WNML, WVLT, CW20, MyVLT, Ted Russell Ford, and Food City are asking for Water, Gatorade, individual snacks (power bar, peanut butter crackers, etc.) lip balm, gloves, blankets, and dog & cat food.  NO monetary donations accepted, those can be made to the Red Cross through link above. Please make drops at Ted Russell Ford (8551 Kingston Pike & 9925 Parkside Drive) & the following (5) Food City locations.
Store #650, 300 Market Drive, Lenoir City
Store #694, 284 Morrell Road, Knoxville
Store #682, 7608 Mountain Grove Drive, Knoxville
Store #685, 4805 North Broadway Street, Knoxville
Store #609, 2946 Winfield Dunn Parkway, Kodak
---
Other local support opportunities include:
Knoxville Expo Center

Accepting items such as toothbrushes, toothpaste, water, baby wipes, dog food, kennels, etc.

C & R Service Company in Oak Ridge

Accepting donations – owner has box trucks and will deliver items

Luttrell Public Library

Accepting water, Gatorade, power bars

Blount County Partnership

Accepting all item donations but not cash

Townsend Visitor Center

Accepting all item donations but not cash

Twin Peaks on Northshore

Accepting donations including toiletries, bottled water, granola bars, baby wipes, etc.

PetSmart in Knoxville and Alcoa
Knoxville Civic Auditorium and Coliseum
Trucker's Lighthouse on Sutherland Avenue
Grainger County EMS
Humane Society of the Tennessee Valley

Accepting wire crates/kennels, stainless steel bowls, Purina One food (dog, cat, kitten, and puppy), and cleaning supplies

Young Williams Animal Center
Foothills Bank & Trust – Knox and Blount County Locations
Campbell County Sheriff's Office
Westel Baptist in Cumberland County
Grainger Ambulance Authority

Accepting gently used clothing

High Praises Church in Maryville
Walmart in Jacksboro
American Red Cross at 203 Court Ave. in Sevierville

Accepting water, Gatorade, and portable snack donations

Grace Baptist Church

Accepting water, Powerade, protein bars, snacks, socks, and gloves for firefighters today, 11/29 and tomorrow, 11/30 from 7:30 a.m. to 7:00 p.m.

Buffalo Grove Baptist in Jefferson City

Accepting items until 7:00 p.m. on 11/29

The Casual Pint in Bearden
Commercial Bank's Knoxville (8a-4p) and Newport (9a-5p) branches

Accepting donations for the Fire Crews and 1st Responders through 12/1

Hatfield & McCoy Dinner Show is providing a free meal for anyone who need it from 2p-3p today, 11/29. Doors open at 1:30 p.m.
This list will be updated as more information is received.